Flour Mill Machine
We are one of the leading manufacturer and exporter of Flour Mill & Spares. These are made up of premium quality material. These are preferred by our clients as we meet the basic requirements of our clients. Besides, our product eases the workload is efficient in operation, long lasting and durable in finish standards. Moreover, our client can avail these in market leading prices.
Always insist - on MEGHDOOT FLOUR MILL
a. It is a trouble free Heavy -Duty Machine
b. Foreign make bearing is fitted with Axel Shaft
c. Axel Shaft is carefully checked with centre & spandle rod, pulley and bearing so it moves freely
d. Out -put is greater than any other Flour Mill
e. It produces cool and fine atta.
SPECIFICATION
| | | | |
| --- | --- | --- | --- |
|   Size | 12 inch | 16 inch | 20 inch |
| Size of Pully | 8x4 | 10x5 | 12x5 |
| HP required | 5-HP | 5-HP | 15 HP |
| Out put per Hr. | 120 Kg | 240 kg | 340Kg |
| RPM | 600 | 575 | 550 |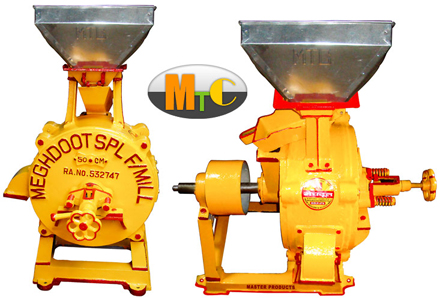 Third Pedestal Flour Mill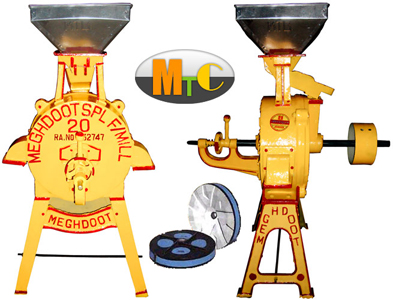 Flour Mill Machine
MILL STONE
MTC stones are manufactured for all types of Vertical and Horizontal Flour Mills operating throughout the globe and also as per the customers specifications. These are manufactured in a wide range i.e. 200 mm dia to 1800 mm dia.
MTC Mill Stones are available in two major categories :
BLACK BOND
WHITE BOND
BLACK BOND
Manufactured by high quality syncroshaped Abrasive grains free  from magnetic particles having hardness about 8 on Moh's scale with black bonding.
WHITE BOND
Manufactured by high quality Abrasive grains of synthetic emery and natural emery with white bonding . (generally popular in Indian Sub-Continent)